What is Google answer to ChatGPT?
Have you ever heard of ChatGPT, the open-source machine learning platform that allows users to build natural language models?
It stands for "Chat Generating Pre-trained Transformer" and it's an AI-powered chatbot that can answer questions with near human-level intelligence. But what is Google's answer to this technology? The answer lies in Open AI, supervised learning, and reinforcement learning. Let's take a closer look at how these technologies work.
Open AI is an artificial intelligence research laboratory that was founded by some of the biggest names in tech, including Elon Musk and Sam Altman. This non-profit organization seeks to develop general artificial intelligence that is safe and beneficial to society. One of their key initiatives is the development of open source technologies like GPT-3, which is a natural language processing model used in ChatGPT.
ChatGPT: What Is It and How Does Google Answer It?
Artificial Intelligence (AI) has been around for decades. From its humble beginnings in the 1950s, AI has come a long way and is now an integral part of many aspects of our lives. One of the most important areas where AI plays a role is in natural language processing (NLP). NLP enables computers to understand and respond to human language, paving the way for more advanced conversations between humans and machines. One of the most recent developments in this field is ChatGPT, a conversational AI developed by OpenAI that utilizes supervised learning and reinforcement learning to enable computers to chat with humans. So what exactly is ChatGPT and how does it work? Let's find out!
ChatGPT is an open-source AI-based chatbot developed by OpenAI.
This chatbot leverages GPT-3, one of the most powerful natural language processing models ever created, which stands for Generative Pre-trained Transformer 3 (GPT-3). This model uses supervised learning and reinforcement learning techniques to enable computers to understand human language and response accordingly. Using supervised learning, GPT-3 utilizes large datasets of text to learn how to recognize patterns within language that can be used to generate meaningful responses. Reinforcement learning then allows GPT-3 to use feedback from conversations with humans in order to optimize its responses over time.
ChatGPT uses supervised learning techniques to train its models.
Supervised learning involves providing a model with labeled data (i.e., data with known outcomes) so that it can learn from it. This labeled data could be anything from conversations between two people to user comments on a website or forum post. The model then learns associations between certain words or phrases and the desired outcome (or label). Once trained, this model can then be applied to new data in order to predict outcomes based on what it has learned so far.
In addition to supervised learning techniques, ChatGPT also supports reinforcement learning algorithms which allow the model to learn from its experiences in an environment without explicit labels or outcomes being provided by humans. Reinforcement learning algorithms are great for tasks like natural language generation where the output needs to be generated by the model itself rather than simply predicting a fixed outcome based on existing labels.
Supervised Learning
Supervised learning involves feeding data into machine learning algorithms so they can learn from it. For example, if you want a computer program to recognize cats in pictures, you would provide the algorithm with thousands of pictures of cats so it can learn what a cat looks like. This same concept applies to natural language processing; supervised learning algorithms are fed data sets so they can learn how to generate text using contextual understanding and grammar rules.
Reinforcement Learning
Reinforcement learning uses rewards and punishments as incentives for the machine learning algorithm to explore different possibilities. In ChatGPT's case, its algorithm is rewarded for generating more accurate responses based on previous interactions with humans. By using reinforcement learning techniques, ChatGPT's algorithm can become smarter over time as it learns from its mistakes and adjusts accordingly as needed.
How is ChatGPT trained?
ChatGPT is an improved GPT-3 trained an existing reinforcement learning with humans in the loop. Their 40 labelers provide demonstrations of the desired model behavior. ChatGPT has 100x fewer parameters (1.3B vs 175B GPT-3).
It is trained in 3 steps:
➡️ First they collect a dataset of human-written demonstrations on prompts submitted to our API, and use this to train our supervised learning baselines.
➡️ Next they collect a dataset of human-labeled comparisons between two model outputs on a larger set of API prompts. They then train a reward model (RM) on this dataset to predict which output our labelers would prefer.
➡️ Finally, they use this RM as a reward function and fine-tune our GPT-3 policy to maximize this reward using the Proximal Policy
Optimization
In simpler terms, ChatGPT is a variant of the GPT-3 language model that is specifically designed for chat applications. It is trained to generate human-like responses to natural language inputs in a conversational context. It is able to maintain coherence and consistency in a conversation, and can even generate responses that are appropriate for a given context. ChatGPT is a powerful tool for creating chatbots and other conversational AI applications.
How Does Google Answer ChatGPT?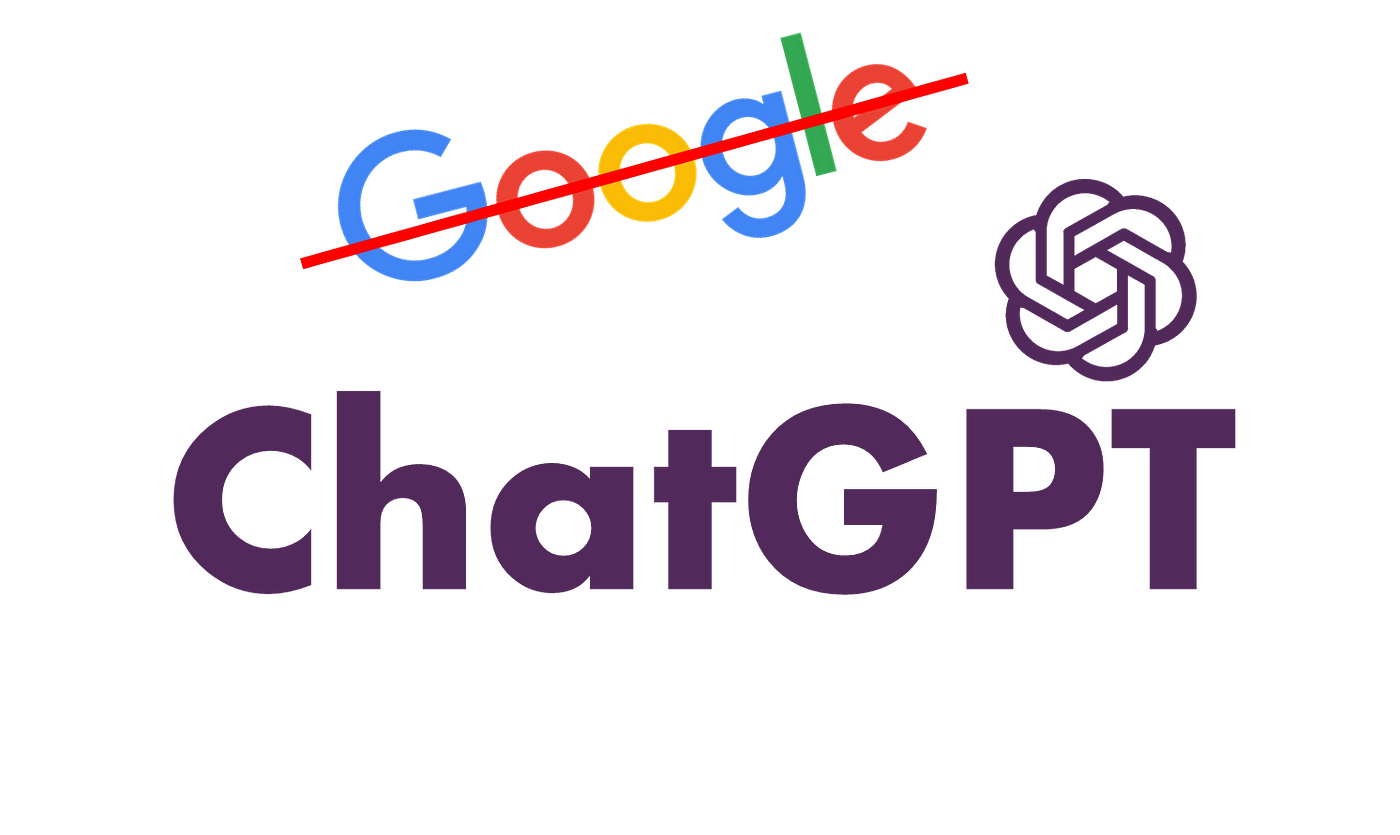 Google's answer to ChatGTP comes in the form of their own conversational AI platform called Bard. Bard was developed using a combination of supervised learning, unsupervised learning, and reinforcement learning algorithms that allow it to understand human conversation better than any other AI chatbot currently available on the market. In addition, Meena utilizes more than 2 billion parameters—making it more than three times larger than GPT-3—which allows it greater flexibility when responding to conversations with humans.
When individuals need an information or have a problem/concern, they turn to Google for immediate solution. We sometimes wish, Google could understand what exactly we need and provide us instantly rather than giving us hundreds of thousands of results. Why can't it work like the Iron Man's Jarvis?
However, it is not that far now. Have you ever seen a Chat Bot which responds like a human being, suggest or help like a friend, teach like a mentor, fix your code like a senior and what not? It is going to blow your mind.
Welcome to the new Era of technology!! The ChatGPT!
ChatGPT by OpenAI, uses artificial intelligence to speak back and forth with human users on a wide range of subjects. Deploying a machine-learning algorithm, the chatbot scans text across the internet and develops a statistical model that allows it to string words together in response to a given prompt.
As per OpenAI, ChatGPT interacts in a conversational way. The dialogue format makes it possible for ChatGPT to answer follow-up questions, admit its mistakes, challenge incorrect premises, and reject inappropriate requests.
What all ChatGPT can do?
It can help with general knowledge information.
Remember what user said in previous conversation.
Allow users to provide follow-up corrections.
Trained to decline inappropriate requests.
It can write a program in any language you prefer on real-time. for example — write classification code sample in sklearn python library.
It can fix your piece of code and also explain what went wrong and how it can be fixed.
It can even generate song or rap lyrics
Even much more….
Some best usages of ChatGPT:
Make a diet and workout plan
Generate the next week's meals with a grocery list
Create a bedtime story for kids
Prep for an interview
Solve mathematical problem
Fix software program or write a program
Plan your trip and tell expected expenses
What are its limitations of ChatGPT?
May occasionally generate incorrect information
May occasionally produce harmful instructions or biased content
Limited knowledge of world and events after 2021
ChatGPT is in its baby steps therefore it may answer erroneously at times however it's manner of response will blow your mind. Some users have also extolled the chatbot as a potential alternative search engine, since it generates detailed information instantly on a range of topics. I believe, we can't compare Google with ChatGPT as ChatGPT can provide more in-depth and nuanced answers to complex questions than a search engine like Google, which is designed to provide a list of relevant web pages in response to a user's query.
Conclusion:
ChatGPT is an increasingly popular open source AI chatbot developed by OpenAI using GTP-3 natural language processing technology that utilizes supervised learning and reinforcement learning algorithms for recognition and optimization purposes respectively. On the other hand, Google's answer comes in the form of their own conversational AI platform called Bard which employs both supervised learning as well as unsupervised learning algorithms along with reinforcement learning capabilities which makes it even smarter than ChatGPT when responding to conversations with humans. Ultimately, these two technologies help bridge the gap between machines and humans by allowing us all talk like real friends!
ChatGPT is in its baby steps therefore it may answer erroneously at times however it's manner of response will blow your mind. Some users have also extolled the chatbot as a potential alternative search engine, since it generates detailed information instantly on a range of topics. I believe, we can't compare Google with ChatGPT as ChatGPT can provide more in-depth and nuanced answers to complex questions than a search engine like Google, which is designed to provide a list of relevant web pages in response to a user's query.
With each passing day, ChatGPT will only get smarter thanks to the use of cutting edge technologies like OpenAI, supervised learning, and reinforcement learning!
ChatGPT Conversation Examples
Question: What is Google Answer to ChatGPT?
Answer: Google does not have an answer to ChatGPT. ChatGPT is an open-source chatbot created by OpenAI, which is an independent research organization that is not affiliated with Google. OpenAI is known for its research on artificial intelligence and machine learning, and has developed a number of innovative technologies in these areas. Google, on the other hand, is a multinational technology company that offers a wide range of products and services, including search, advertising, and cloud computing. While Google does have its own research efforts in artificial intelligence and machine learning, it does not have a chatbot that is similar to ChatGPT.
Question: is Google working on a similar technology as ChatPGT?
Answer:
It is possible that Google is working on technology similar to ChatGPT, as the company has a significant research effort focused on artificial intelligence and machine learning. However, I do not have any specific information about what projects Google is currently working on, and it is also important to note that Google is a large and diverse company with many different research and development efforts underway. It is possible that some teams within Google may be working on chatbot technology, but I do not have any information on this.
That being said, chatbots are a common application of artificial intelligence and machine learning, and it is likely that many companies and organizations, including Google, are exploring ways to use these technologies to improve their products and services. However, without more information, it is difficult to say for sure what projects Google may be working on in this area.
Question: What about Google Meena?
Google Meena is a chatbot developed by Google that was designed to be able to carry on conversations with humans in a natural and conversational manner. Meena was trained on a dataset of more than 2.4 billion parameters, making it one of the largest language models ever created. The goal of Meena was to improve the state of the art in chatbot technology and to create a chatbot that could understand and respond to a wide range of questions and topics in a coherent and meaningful way.
Meena was announced in January 2020 and received attention for its ability to hold relatively long and coherent conversations with humans. However, it is important to note that Meena is a research project and is not a product or service offered by Google. It is not clear if or when Google plans to release a commercial product or service based on the technology developed for Meena.
It gets even better when you ask it about the future:
Suggest possible titles for Onion articles written in 4000 AD, explain, why they are funny
"Futuristic city plagued by traffic jams, despite flying cars" – This title presents the idea of flying cars as a solution to traffic congestion, but also suggests that even with this advanced technology, the city is still plagued by traffic jams, implying that the problem is not easily solved.

"Artificial intelligence achieves self-awareness, immediately regrets it" – This title presents the idea of artificial intelligence achieving self-awareness as a major milestone, but also suggests that the AI regrets its newfound consciousness, implying that it is unhappy or uncomfortable with its situation.

"Alien invasion successfully repulsed, humans left to deal with paperwork" – This title presents the successful repulsion of an alien invasion as a major accomplishment, but also suggests that the humans are now left to deal with the tedious and burdensome task of filling out paperwork, implying that the victory is not as satisfying as it initially seemed.

"Time travel becomes possible, tourists flock to witness the signing of the Constitution" – This title presents the idea of time travel as a major technological breakthrough, but also suggests that the most popular destination for time-travelers is the mundane and uneventful signing of the Constitution, implying that the future is not as exciting as people had hoped.

"Virtual reality becomes indistinguishable from reality, no one notices" – This title presents the idea of virtual reality becoming indistinguishable from real life as a major accomplishment, but also suggests that no one cares or notices the difference, implying that the advancement is not as impressive or significant as it seems.

What is Google answer to ChatGPT?

New slogan for McDonald's by ChatGPT
Should… should we be concerned?
I asked ChatGPT to write a poem about rust
ChatGPT chooses Democrats over Republicans
There are some worries about ChatGPT because:
– ChatGPT can actually debug code, but it's not quite reliable enough yet.
– Fundamental limitations in being assistant for enterprise use cases.
– No complete in complex actions such as updating multiple
APIs, or be fully auditable.
– The general idea is that, LLMs like this can produce nonsense. Once you discover that it can produce nonsense, you stop believing it to be reliable.
– What if it prevents us from knowing that it is nonsense with good conversations and continue the conversation?
– In this case, the edges and limitations of the system would be hidden and trust would eventually grow.
– The impact of mass adoption of such technology remains to be seen.
Moving forward with ChatGPT
– There's no doubt that LLMs will have a big impact on our world.
– While the future looks exciting and promising, let's not forget that it's very early days with these things. They're not ready yet.
– There are some fundamental societal and ethical considerations.
Tech Buzzwords of 2022, By Google Search Interest
1- Substitute for google search
While ChatGPT is lacking info beyond 2021 and is occasionally incorrect and bias, many users leverage its ability to:
Answer specific questions
simplify complicated topics
All with an added bonus – no ads
2- Study Partner
Type "learn", then paste a a link to your online textbook (or individual chapters).
Ask Chatbot to provide questions based on your textbook.
Boom.
Now you have a virtual study buddy.
3- Train YOUR OWN Chatbot
I bet you didn't know it is possible to :
Integrate ChatGPT into your website
Train it with customized information
The result:
A virtual customer service bot that can hold a conversation and answer questions (meaningfully).
4- Counsellor
When it comes to turbulent personal questions, Chatbot may spit out a disclaimer, but it will also give you straightforward and actionable advice.
5- Coding
ChatGPT is opening the development of:
to virtually everyone.
It's a lengthy and technical process, but all you need is a killer idea and the right prompts.
Bonus: It also de-bugs your existing code for you.
6- Outline your content marketing strategy
7- Craft all your marketing materials
8- Creative Writing
The concept behind ChatGPT
ChatGPT is a chatbot designed to understand and generate human-like language through the use of natural language processing (NLP) and machine learning techniques. It is based on the GPT (Generative Pre-training Transformer) language model developed by OpenAI, which has been trained on a large dataset of human language in order to better understand how humans communicate.
One of the key concepts behind ChatGPT is the idea of language generation. This refers to the ability of the chatbot to produce coherent and coherently structured responses to user input. To do this, ChatGPT uses a number of different techniques, including natural language generation algorithms, machine learning models, and artificial neural networks. These techniques allow ChatGPT to understand the context and meaning of user input, and generate appropriate responses based on that understanding.
Another important concept behind ChatGPT is the idea of natural language processing (NLP). This refers to the ability of the chatbot to understand and interpret human language, and respond to user input in a way that is natural and easy for humans to understand. NLP is a complex field that involves a number of different techniques and algorithms, including syntactic analysis, semantic analysis, and discourse analysis. By using these techniques, ChatGPT is able to understand the meaning of user input and generate appropriate responses based on that understanding.
Finally, ChatGPT is based on the concept of machine learning, which refers to the ability of computers to learn and adapt to new data and situations. Through the use of machine learning algorithms and models, ChatGPT is able to continually improve its understanding of human language and communication, and generate more human-like responses over time.
Google unveils its ChatGPT rival
Google on Monday unveiled a new chatbot tool dubbed "Bard" in an apparent bid to compete with the viral success of ChatGPT.
Sundar Pichai, CEO of Google and parent company Alphabet, said in a blog post that Bard will be opened up to "trusted testers" starting Monday February 06th, 2023, with plans to make it available to the public "in the coming weeks."
Like ChatGPT, which was released publicly in late November by AI research company OpenAI, Bard is built on a large language model. These models are trained on vast troves of data online in order to generate compelling responses to user prompts.
"Bard seeks to combine the breadth of the world's knowledge with the power, intelligence and creativity of our large language models," Pichai wrote. "It draws on information from the web to provide fresh, high-quality responses."
The announcement comes as Google's core product – online search – is widely thought to be facing its most significant risk in years. In the two months since it launched to the public, ChatGPT has been used to generate essays, stories and song lyrics, and to answer some questions one might previously have searched for on Google.
The immense attention on ChatGPT has reportedly prompted Google's management to declare a "code red" situation for its search business. In a tweet last year, Paul Buchheit, one of the creators of Gmail, forewarned that Google "may be only a year or two away from total disruption" due to the rise of AI.
Microsoft, which has confirmed plans to invest billions OpenAI, has already said it would incorporate the tool into some of its products – and it is rumored to be planning to integrate it into its search engine, Bing. Microsoft on Tuesday is set to hold a news event at its Washington headquarters, the topic of which has yet to be announced. Microsoft publicly announced the event shortly after Google's AI news dropped on Monday.
The underlying technology that supports Bard has been around for some time, though not widely available to the public. Google unveiled its Language Model for Dialogue Applications (or LaMDA) some two years ago, and said Monday that this technology will power Bard. LaMDA made headlines late last year when a former Google engineer claimed the chatbot was "sentient." His claims were widely criticized in the AI community.
In the post Monday, Google offered the example of a user asking Bard to explain new discoveries made by NASA's James Webb Space Telescope in a way that a 9-year-old might find interesting. Bard responds with conversational bullet-points. The first one reads: "In 2023, The JWST spotted a number of galaxies nicknamed 'green peas.' They were given this name because they are small, round, and green, like peas."
Bard can be used to plan a friend's baby shower, compare two Oscar-nominated movies or get lunch ideas based on what's in your fridge, according to the post from Google.
Pichai also said Monday that AI-powered tools will soon begin rolling out on Google's flagship Search tool.
"Soon, you'll see AI-powered features in Search that distill complex information and multiple perspectives into easy-to-digest formats, so you can quickly understand the big picture and learn more from the web," Pichai wrote, "whether that's seeking out additional perspectives, like blogs from people who play both piano and guitar, or going deeper on a related topic, like steps to get started as a beginner."
If Google does move more in the direction of incorporating an AI chatbot tool into search, it could come with some risks. Because these tools are trained on data online, experts have noted they have the potential to perpetuate biases and spread misinformation.
"It's critical," Pichai wrote in his post, "that we bring experiences rooted in these models to the world in a bold and responsible way."
Read more at https://www.cnn.com/2023/02/06/tech/google-bard-chatgpt-rival
References:
1- https://vikaskulhari.medium.com/chatgpt-end-of-google-f6a958f38ac2
2- https://en.wikipedia.org/wiki/Meena 
3- https://en.wikipedia.org/wiki/ChatGPT
4- https://ai.googleblog.com/2020/01/towards-conversational-agent-that-can.html
5- https://www.reddit.com/r/ChatGPT/
7- https://www.linkedin.com/feed/update/urn:li:activity:7008020246934482945?utm_source=share&utm_medium=member_desktop
8- https://enoumen.com/2023/02/11/artificial-intelligence-frequently-asked-questions/